What the experts say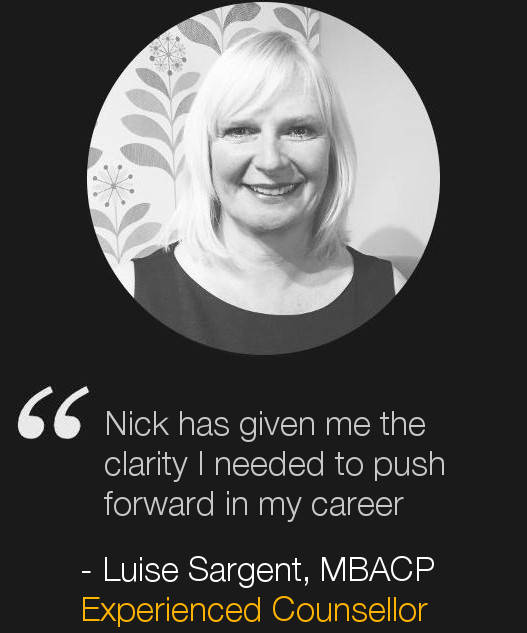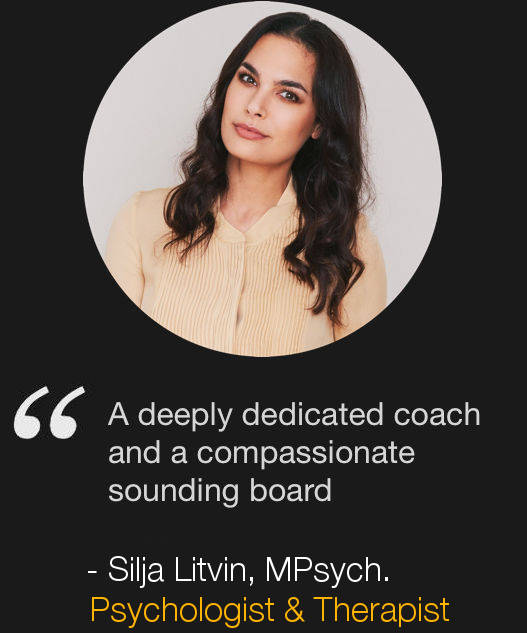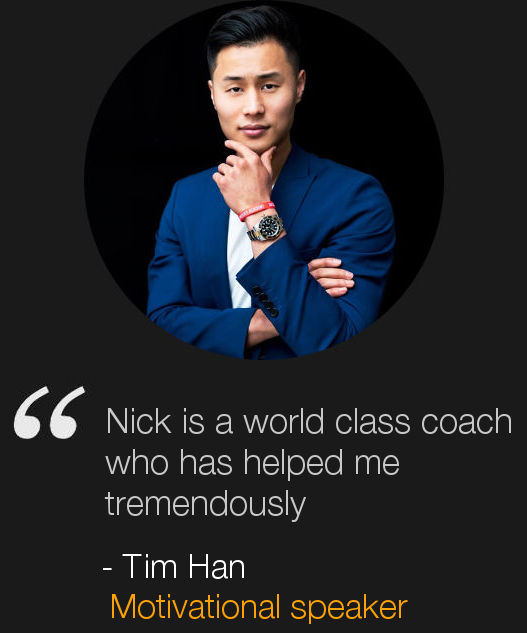 Enough is enough.
Hire a coach.
This time you are going to make it happen! Except you said that last year.
And the year before that.
You have tried everything from self-help, meditation and therapy, to yoga.
"Why am I still stuck in life?", you ask.
You feel trapped in your own mental prison.
As a life coach, Nick has helped everyone from musicians, actors, CEOs, psychiatrists, authors to ex-military break out of their prisons and unlock their full potential.
And he can do the same for you as your coach: he can help you find the key to your own prison.
Powerful Results
The results Nick creates are worth much more than the money he charges:
A consultant discovered his dream job and booked 3 clients after one session.
A musician got an opportunity to work with a world-famous producer.
A successful entrepreneur resolved love life issues that had lasted 15+ years.
An actor was able to land a lead role after a long dry spell.
A coach doubled his earnings after just one session.
An investment for life
When you buy life coaching from Nick, you are making an investment for life.
You also get so much more than just coaching sessions.
All programmes include:
PERSONALISATION: A tailored programme to you, your life and your goals
TRANSFORMATION: Destroy limiting beliefs that have held you back for years
ACTION: Growth actions set after sessions to help move you forward
FLEXIBILITY: Sessions (F2F or online) that fit with your lifestyle and schedule
Silver, Gold and Platinum programmes include:
RAPID INSIGHTS: Discover character weaknesses with psychometric testing
ACCOUNTABILITY: 10-minute Phone Check-ins to keep you on track and motivated
STRESS REDUCTION: Unwind with a free one-week guest pass and £499 discount off a luxury gym and spa membership at BodyWorksWest+ in Notting Hill
Overnight breakthroughs
On paper, you look successful. Perhaps you attend therapy and meditate regularly.
But, deep down, you have a terrible secret: you are deeply unsatisfied in life.
You may be looking for:
Your dream career
Empowering confidence
Healthy relationships
Addiction recovery
Prosperity and fulfilment
The good news is many of Nick's clients have had overnight breakthroughs.
Psychology. Compassion. Life Experience.
You may have seen therapists before, only to find they were theoretical and focused too much on the past.
You may have seen "healers" and "gurus", only to find they were charlatans.
You want not only deep insights but also positive changes in your life.
Unlike other approaches, Nick's coaching is grounded in practical psychology, compassion and a wealth of valuable personal experience.
Up to 95% success rate
You keeping making promises to yourself, only to find them broken again and again.
You procrastinate and you hate yourself for it. Fear not. This is where a life coach can help.
Studies show accountability appointments with someone you commit to provides up to 95% chance of achieving a goal.
No more. It is time for a change. You know you are capable of more in life.
What is life coaching?
Life coaching is primarily about transforming insight into action.
As a life coach, Nick does this in three stages:
1. VISION: First we determine what you want to achieve. It might be changing career, better self-esteem, stopping a bad habit, etc.
2. INSIGHT: The next step is discovering any possible blockages or limiting beliefs - and challenging and replacing them if necessary.
3. ACTION: Finally, we work on putting together a roadmap to get you to your goal with a strategy and an action plan.
Sessions are one hour long and can be flexibly scheduled.
Nick's signature coaching uses a range of tools from Neuro-linguistic Programming to Psychodynamic and Positive Psychology.
Change your life today - get a life coach
Let's start with a free Insight Session to discover what is keeping you stuck and to see if we have good chemistry.
We can speak on the phone or face-to-face.
BOOK A FREE SESSION
What are you looking for?
Life Coach in London | Career Coach | Executive Coach | Dating Coach
Confidence Coach